We hosted the first in-person gathering of the OpenFlexure community in Bath, in July 2022. It was a three day gathering for people from all over the world to showcase what they were doing, build connections, and help set future directions for the project. It was held at the Bath Royal Literary and Scientific Institution, and there are now notes, articles, and recordings available below.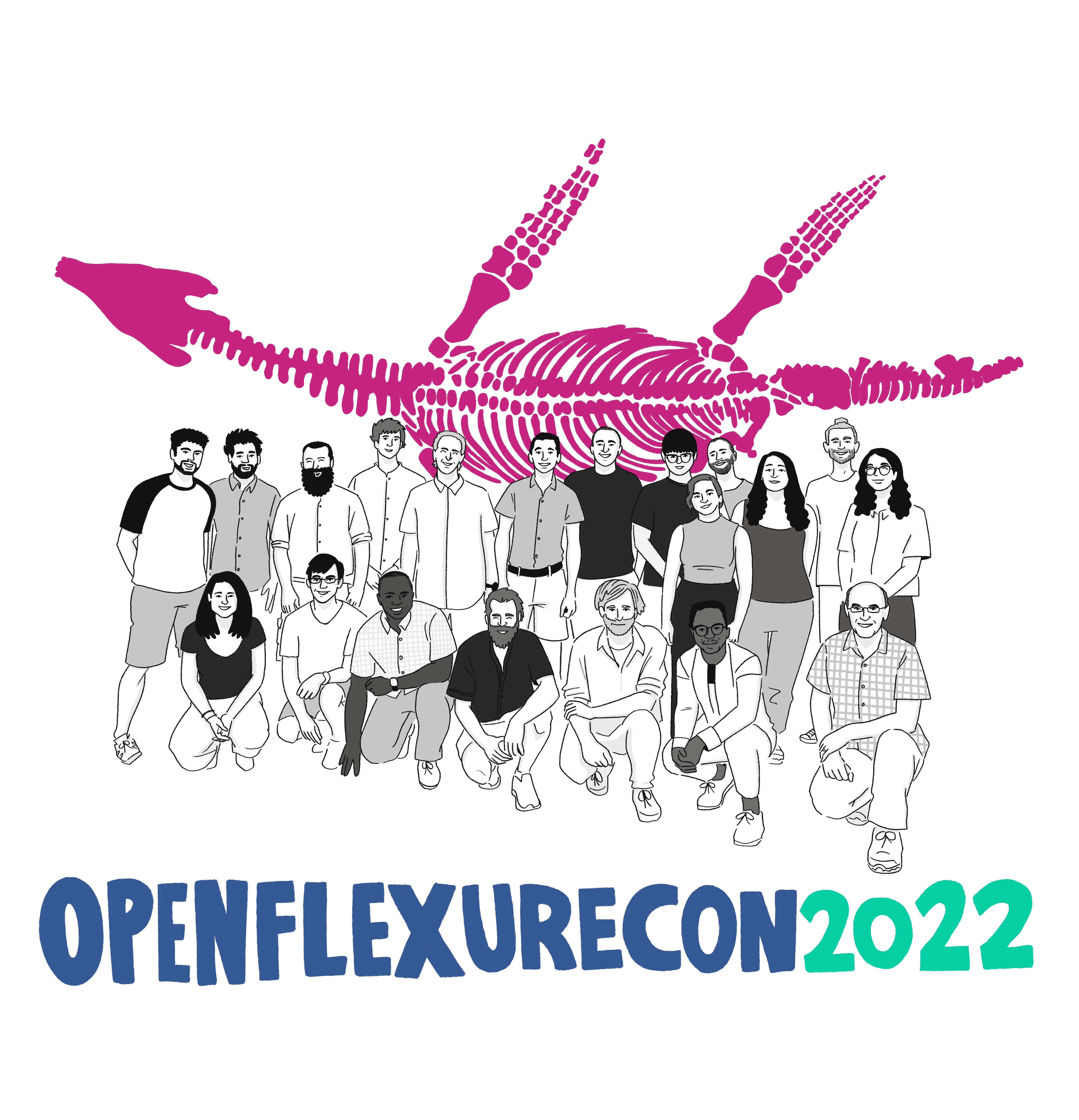 Articles on the event
With many thanks to Julieta Arancio for preparing these, we have write-ups of several of the projects that were represented. We are very keen to document more of the exciting things happening with the OpenFlexure Community, so if you'd like to add to this list (whether or not you were at OpenFlexureCon), please get in touch on the forum or by email.
A recording of Richard's introduction is available on YouTube:
Recordings and notes
We've uploaded lots of notes from the event to the forum category. Recordings of the talks from Tuesday are in a YouTube playlist. Many thanks to the Royal Academy of engineering, who enabled us to engage the excellent paraphrase studio to live-scribe the event.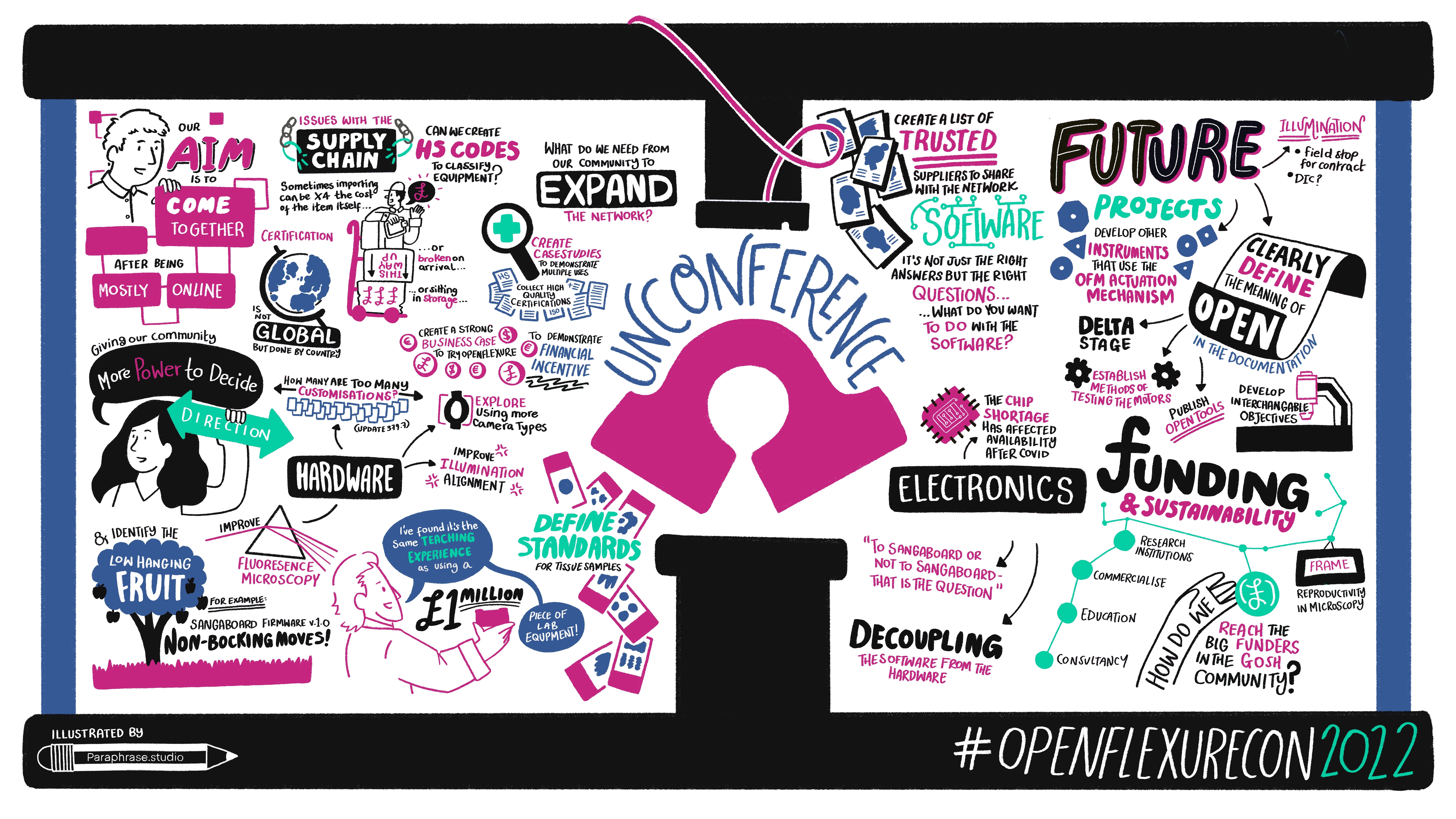 Aims and format
We met over two half-days and one full day, with some short talks and lots of room for discussion. There were be posters and hardware demos on the evening of Monday 11th, and plenty delegates brought microscopes and other creations for the in-person show and tell that we have all been missing these last few years. There was lots of discussion in small and large groups, most of which has been summarised in the forum category.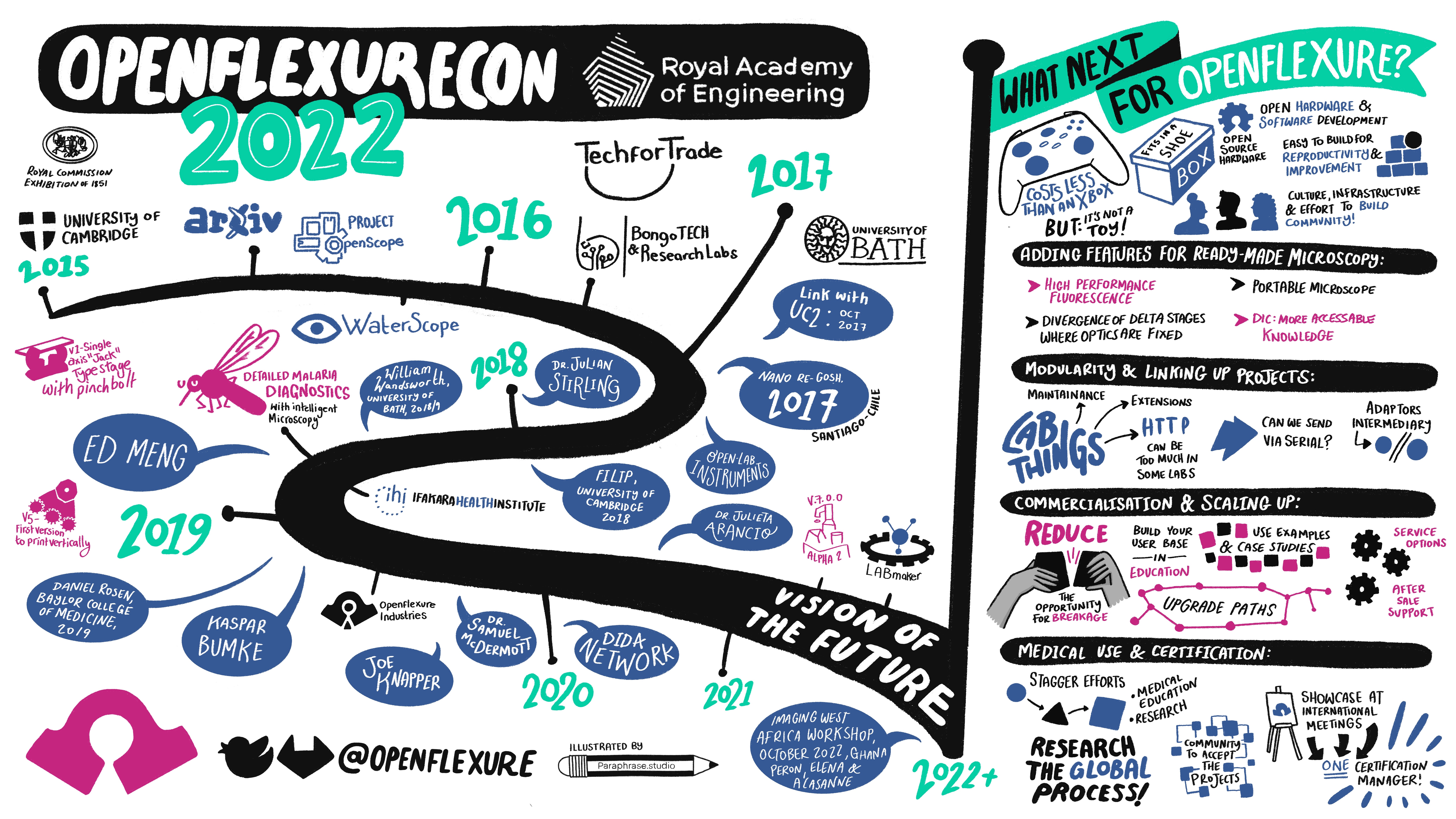 This was an in-person meeting, with some pre-recorded talks from delegates who could not attend. Recordings are now available in a YouTube playlist, and notes from the discussions are in the forum category.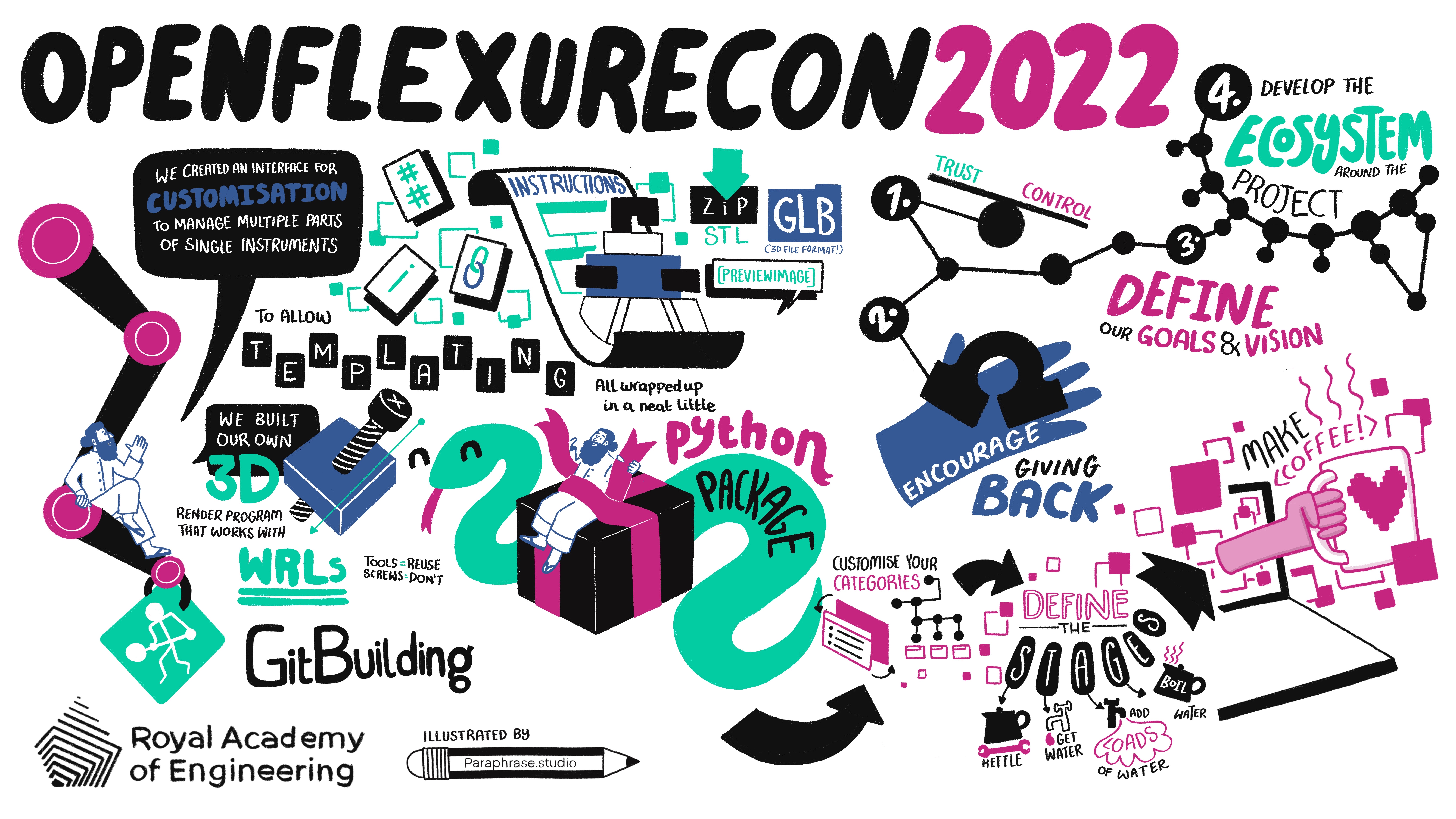 Programme
Monday 11th July 2022
12 noon - 1pm: Arrivals and lunch
1:00 - 1:15pm: Welcome and introduction
1:15 - 1:45: Icebreaker
1:45 - 2:00pm: Introduction to unconference format and discussion topics
2:00 - 2:30pm: Unconference planning
2:30 - 3:00pm: Coffee
3:00 - 3:45pm: Unconference session 1
3:45-4:00pm: Changeover and short break
4:00 - 4:45pm: Unconference session 2
4:45 - 5:15pm: Wrap up
5:15 - 9pm: Drinks, nibbles, demos, posters, and discussions
Tuesday 12th July 2022
9:00 - 9:30am: Coffee and arrival
9:30 - 10:00am: Welcome and introduction to the OpenFlexure project (recording)
10:00 - 10:30am: Short talks
10:30 - 11:00am: Panel Discussion
11:00 - 11:30am: Coffee
11:30 - 12:00pm: Short talks
12:00 - 12:30pm: Panel Discussion
12:30 - 1:30pm: Lunch
1:30 - 2:00pm: Short talks

Fernando Castro, reGOSH - Ayllu Cooperative, Argentina
Samuel McDermott, University of Cambridge
Benedict Diederich, Universitat Jena, Germany
Joe Knapper, University of Bath, UK

2:00 - 2:30pm: Panel discussion
2:30 - 3:00pm: Coffee
3:00 - 3:15pm: What next for OpenFlexure?
3:15 - 4:00: Table discussions with topics including:

Adding features for ready-made microscopy
Modularity and linking up projects
Commercialisation and scaling up
Medical use and certification

4:00 - 4:05: Move tables (and top up coffee)
4:05 - 4:50pm: Table discussions 2
4:50 - 5:00pm: Wrap-up
7:00 - 9:00pm: Conference dinner
Wednesday 13th July 2022
9:00 - 9:30am: Coffee and arrival
9:30 - 10:15am: Unconference session 3 (including thinking about project pitches)
10:15 - 10:45am: Plenary discussion and project pitches
10:15 - 11:15am: Coffee
11:15 - 11:50am: Group work on next steps
11:50 - 12:00pm: Wrap-up and departure